Over the summer, the IFJ – antenne Romain Gary invites teenagers to come and have fun pratising their French language skills 4 times a week! Aimed at 12- to 16 years olds , whether they speak French or not, these summer classes & workshops will delight them all by introducing them to French culture in a new and different way!

>INTENSIVE CLASSES:
THE COURSE: 
Our fully immersive, conversation-focused and multimedia rich courses are led by experienced native French-speaking teachers. Our action-oriented approach proposes tasks set in contexts that students could face in everyday life.
Participants receive special exposure to French language and culture. For this purpose, we have prepared a comprehensive program of classes and workshops, at a language level adapted to the students' abilities, in order to enable students to discover the French language and culture through theater practices, choir, creative activities, games, reading books …
SCHEDULE: 
Courses 
Days of class
Class time
Beginning of course
End of course
Hours per session
 

JULY

 

From Monday to Thursday
9.30AM to 1.30PM
02/07/18
26/07/18
64
FEES & DISCOUNTS:
Price: 2400 ILS / 2160 ILS for registration before June 20th, 2018
Student books are not included in the price!
Payment is in check or cash; spread payment is possible with checks (2 checks only).
We do not accept credit card.
You can enjoy from the library service during your French lesson session.
> TUTORING FOR FRENCH SPEAKING STUDENTS :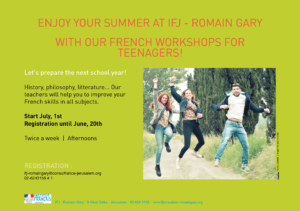 We also have specific programs  for adults and for children !
CONTACT
For more information, please do not hesitate to contact us:
by phone:  02.6243156 #1 (Déborah) / 02.6255831
or by email: ifj-romaingary@consulfrance-jerusalem.org